The All Things Hollywood Show is not just about interviews with Famous People (though we have plenty of them!) The show was created for the true fans of movies, TV, and entertainment.
We take you behind the scenes to show you what it really takes to get a movie made. We talk to the people who are the "boots on the ground", so to speak… the ones who really make everything run smoothly on set.
Ever wonder what the heck a "gaffer" is? How about a "best boy?" Are you curious about what a Costume Designer, Set Designer, and 1st AD actually do?
THAT is what the All Things Hollywood Show is all about. Along with some juicy celebrity gossip, of course!
Hosted by Travis Cody, a screenwriter, author of several #1 bestselling books and 15+ year Hollywood veteran who spent considerable time as a Film Development Executive. (Don't worry, you'll learn what that is too!)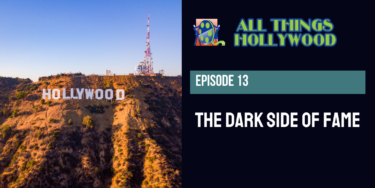 The Dark Side of Fame by Travis Cody https://episodes.castos.com/5f43fda6dba3d5-48961195/3507229-44100-2-e787f7793537.mp3 Everyone wants to be famous... but most people have no idea ...
What to Know the Insider Secrets to Meeting the
Celebrity of Your Dreams?
Get FREE Instant Access To The #1 Bestselling Book That Shows You How!
Learn the Secret "Rules" of Hollywood That Will Instantly Make Celebrities Accepts You As "An Insider" Like Them
What Never, Ever To Say To A Celebrity At Any Cost. (If You Do, You'll Probably Be Drop Kicked By Their Security Guard.)
The Best Places to Meet Celebrities, Even If You Live in The Middle of Nowhere. (PLUS: The 6 Easy Steps You Can Take That Will Make Your Favorite Celebrity Love You When You Do Meet Them.)
Copyright Travis Cody 2022
Inspired Solutions, Inc.
1621 Central Ave. Cheyenne, WY 82001
Phone: (424) 234 - 8225
Email: support@bestsellerbydesign.com
Web Design by iTech Valet