Who Want To Publish A Book and Become A Bestselling Author
Go from blank page to fully published book in 8-weeks or less…
even if you're not a writer or feel like you don't have the time…
guaranteed.
Want to Know The Proven Secret to Grow Your Business With A Book?
Enter your best email and I will send you the exact blueprint used by Tony Robbins, Frank Kern, Dean Graziosi, Brendan Burchard, Russell Brunson and more...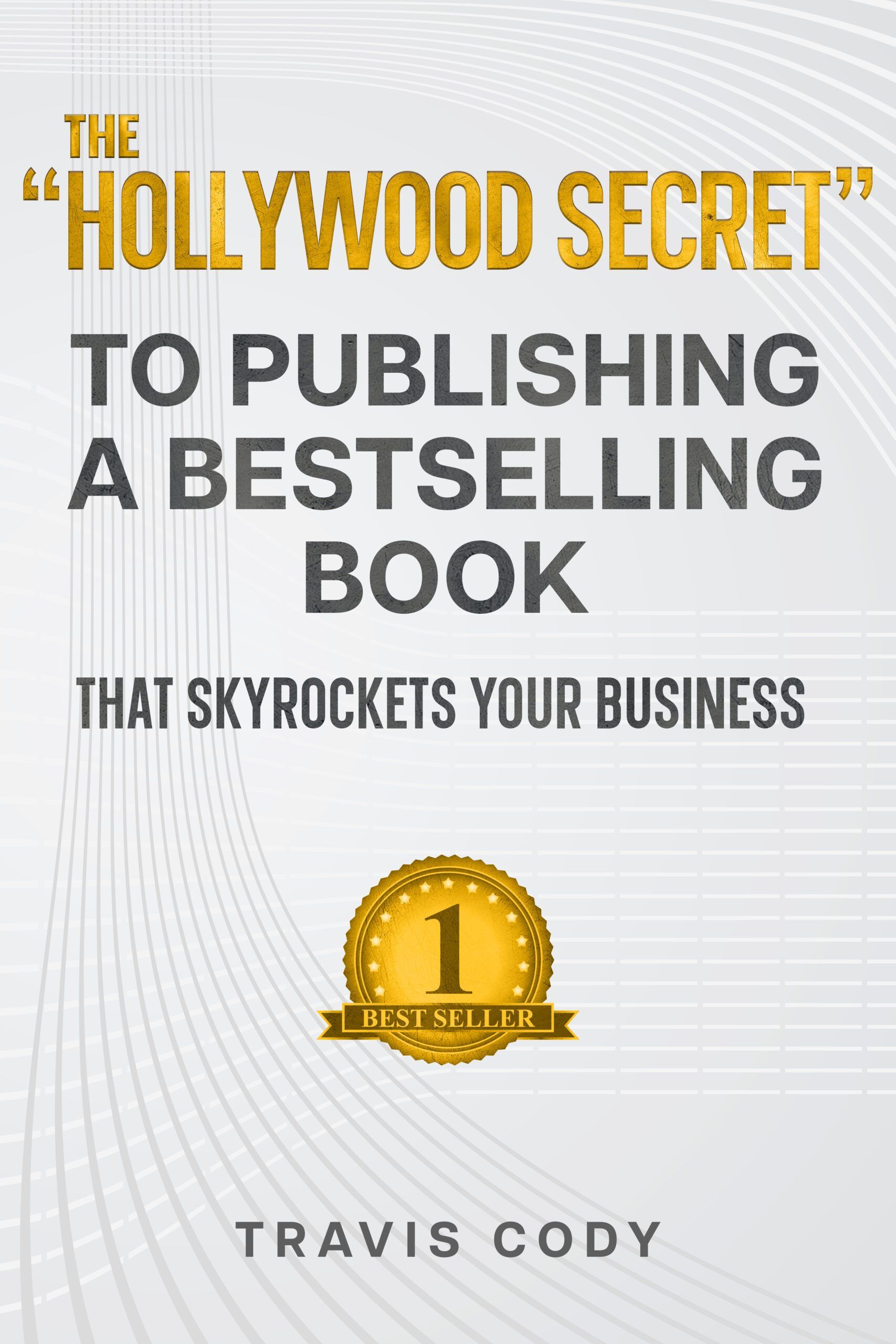 You're a Successful Entrepreneur or Service Provider Who's Ready to Be Recognized As The Influencer You Truly Are
You Have Life Experiences That Deserve to Be In a Book. It's Not a Memoir…
It's Your True Legacy.
You Want to Sell Your Life Story or Work of Fiction to Hollywood
Some of the Books We've Helped
Create, Publish and Turn Into Bestsellers
I have sold millions of copies of my books digitally online. When I finally decided to release my first physical book, Travis Cody was instrumental in helping me to get it published and in getting it to #1 on Amazon. If you want your own bestselling book, follow his method and you will see results.
Jon Benson, #1 Bestselling Author
Open Click Buy & 4 Day Thyroid Diet
I've been in publishing, one way or another, for almost 40 years, including being a publisher myself (six authors' books in print). I can say without hesitation that I have NEVER seen anything as easy or powerful as this. I know this from personal experience, because my book hit #3 on the Amazon paid best seller list within 24 hours of being published. This blew my expectations totally out of the water! I highly recommend this service for anyone who is serious about having a best-selling book (which, not incidentally, is the numero uno credential you can have, period).
David Garfinkel, #1 Bestselling Author
Breakthrough Copywriting
I recently worked with Travis and his "make your book a bestseller" marketing service. I have to be honest... I was a little skeptical. But lo and behold, in only a matter of days, I was a best selling author! If you get the opportunity to work with Travis, I highly recommend it. I highly endorse his book marketing service.
Doberman Dan, #1 Bestselling Author
Just Sell The Damn Thing™
As a professional educator, I rely on my public profile as an author and speaker to competitively position my company in the marketplace. Travis Cody's services brought me over 15,000 downloads for my eBook, leading to increased revenues and heightened respect from potential clients. Who doesn't want to be able to say they're a #1 Amazon Bestselling author? Thanks to Travis' Kindle Best Seller Service, I am now the only logical choice for parents of college-bound teens looking for inside tips to help their students. (And many of my clients are household names.) That gets an A+ from this teacher!
Pamela Donnelly, #1 Bestselling Author
S.W.A.T. Team Tactics for Getting Your Teen Into College Founder, Valley Prep Tutoring, Inc.
As a professional life coach, speaker and media expert, I rely on my books to introduce me to a larger audience and to grow my business. Travis was referred to me by a colleague who also used his services to reach best-seller status with her book. From our first meeting is was clear that Travis was very knowledgeable about the process required to increase awareness and generate downloads of my eBook. On the first day of the official launch, Travis was able to generate close to 16,000 downloads of my eBook (Dump Your Fear!) resulting in its rise to #3 and 19 in two Amazon paid best seller categories. Although I'd published books before and written in scientific journals, there's no comparison to the amount of respect and awe that I get from people when I tell them that I'm an Amazon best-selling author. Thanks for your Kindle Best Seller Service Travis; I'll certainly be looking for your assistance again in a few months with the launch of my next book.
Jacinth Tracey, Bestselling Author
Dump Your Fear!
When Travis said he could make me a bestselling author, I thought it was a little far fetched. I was a complete unknown in my industry. Today I am a #1 bestselling author. It happened quickly after we met and it has tremendously helped my business, my credibility, my exposure and, of course, my bank account.
Ryan Nickel, #1 Bestselling Author
Defending Yourself From Foreclosure
Within 3-days my kindle e-book ranked #1 within categories and maintained this rock-star position for almost 3-weeks (now, a month later - the rankings still hold strong). Travis made the process easy, worked quickly and guaranteed my results- making it easy for me to write this recommendation.
Charles Gaudet, #1 Bestselling Author
The Predictable Profits Playbook
Just for the record I did a marketing experiment with Travis last year and was pleasantly surprised that he took a book I listed on the Amazon to best seller status in a very short time frame! (I think it was just a few weeks, if not days)
Dr. Glenn Livingston, #1 Bestselling Author
I always knew that I had a book inside me. However, as a successful and business owner, the idea of actually sitting down and writing one was overwhelming... if not outright terrifying! When I hire Travis Cody, I'll admit that I was pretty skeptical that he could actually do what he promised. In the end, he radically over delivered on everything he said he would do. He helped me to create my first book in an abbreviated time frame I didn't think was possible. He held my hand every step of the way - from initial consultation, to writing, editors, interior and cover design to final publication. And finally... the marketing promotion. Ahhh, the marketing. Although Travis doesn't guarantee a particular spot on the bestseller list, only that you'll actually BE on the list... my book "How to Be Hollywood Beautiful Without The Hollywood Price" reached #1. I can't tell you the power that comes from saying you are a bestselling author. It truly does open doors and set you apart from others who are doing something similar. Additionally its pretty amazing to say that you are a best-selling author.
Makayla Leone, #1 Bestselling Author
Unlock Your Genius: 7 Keys To Create Your Ideal Life
Travis is simply amazing at what he does. He analyzes the opportunity to market your product or service in a way that is unparalleled to other firms. His proactive communication gives you confidence that your heading in the right direction. And when he delivers your intended results, he still continues to find ways to add value! Travis is a class-act and an asset to the entrepreneurial community.
John Moriarty, #1 Bestselling Author
I highly recommend Travis's book promotion service. He helped me claim three#1 spots on Amazon in very competitive categories. Now that I have that credibility, I am looked upon as a true expert in the training & coaching industry and that status is paying off every day. Thank goodness I found Travis!
Scott Palat, #1 Bestselling Author
The Evolution of Training and Coaching: How to Explode Your Company Fast
I had actually hired two other people to help me with my book, and they were both just awful. When Travis Cody told me about his service, I didn't believe that he could actually do it. I mean, who is crazy enough to guarantee a best seller rating for an Amazon book? Not only did Travis pull my entire story out of me in a way that was much more entertaining than I had originally planned, but he also put my first two books onto the best seller list. I plan to use his service for all of my other books. And you should too if you know what's good for you.
Jack Collins, Bestselling Author
Luck of the Devil
Travis convinced me to do a 'little test' with an old book I'd written in the horror genre. Just a few weeks later I'm a best selling zombie author on Amazon. His publishing powers are most certainly 'supernatural'… but I didn't have to donate my brains to use them! But please don't use Travis' service. Because I don't want him to get too busy to market my other books!
Thomas Von Harrington, Bestselling Author
Everything You Need to Know About Zombies, All in One Place
"It's tremendously helped my business, my credibility, my exposure and, of course, my bank account."
– Ryan Nickel
"My book hit #1 in several different categories.
If you want to give your book the exposure it deserves, I highly recommend you give this a chance…"
– Clark Bartram
"The amount of publicity coming my way and the opportunities that are opening up is insane. This was my best investment ever."
– Scott Palat
I'm An International Bestselling Author, Hollywood Screenwriter And Film Development Exec Who Has Appeared On The Ellen Show.
During my time in Hollywood, I gained a reputation for being one of the fastest screenwriters in the industry for my ability to create full screenplays in less than a week.
It was during this time I refined several "speed writing" strategies and applied them to writing books. After releasing three books in three years, I even wrote a book about this technique in the #1 bestseller When A Book Is A Goldmine. (I used the process to write the book ON the process and went from blank page
to fully published in just 23 days.)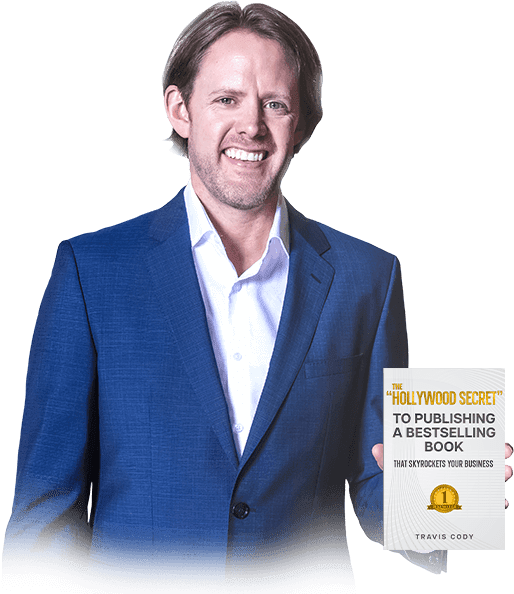 Want to Know The Proven Secret to Grow Your Business With A Book?
Enter your best email and I will send you the exact blueprint used by Russell Brunson, Tony Robbins, Frank Kern, Dean Graziosi, Brendan Burchard and more...
Copyright Travis Cody 2022
Inspired Solutions, Inc.
1621 Central Ave. Cheyenne, WY 82001
Phone: (424) 234 - 8225
Email: support@bestsellerbydesign.com
Web Design by iTech Valet